5th FAI Women's World Hot Air Balloon Championship Cruises through flights 3-4-5-6
By: Debbie Spaeth (USA), Chair CIA Public & Media Relations SC
After a windy and rainy start caused cancellation of some early competition flight slots, the 5th FAI Women's World Hot Air Balloon Championship (WWHABC) has completed 4 flights in a row. Competitors are racking up their points with 12 tasks flown from Tuesday afternoon to Friday morning. As one of the local organizers said: "This is (more) normal weather for Northam" : Sunny Skies and Cooperative Winds.

Officials wrapped up warmly on a chilly morning!
Tasks flown have included HWZ/Hesitation Waltz, PDG/Pilot Declared Goal, JDG/Judge Declared Goal, FON/Fly-On, and HNH/Hare & Hounds. Tasks have been a mix of physical markers thrown and logger marks on the Balloon Live Sensors/Apps.
Winning Results for Individual Tasks:
Task 8 HWZ Rita BECZ HUN 4.0m
Task 9 PDG Nicola SCAIFE AUS 9.0m
Task 10 JDG Nicola SCAIFE AUS 0.90m
Task 11 JDG Nicola SCAIFE AUS 131.0m
Task 12 HWZ Susanna OBIEGLO GER 0.31m
Task 13 FON Elisabeth KINDERMANN-SCHOEN AUT 2.0m
Task 14 HNH Alana KAHL AUS 4.03m
Task 15 JDG Nicola SCAIFE AUS 1.0m
Task 16 PDG Georgia CROFT AUS 21.0m
Task 17 HWZ Joanna BIEDERMANN POL 0.60m
Task 18 FON Kelli KELLER USA 40.0m
Task 19 JDG Nicola SCAIFE AUS 34.80m
The competition launch sites have been scattered around the countryside of Northam, Western Australia. Launch sites are a selection of "paddocks", rather than a park or similar venue. When I Googled the size and definition of a paddock in Australia, this is what I found.
How big is a paddock in Australia? What's the definition of a paddock?
Size of a paddock - an average paddock size can be as small as 10 hectares (about five football fields) or as large as 2,000 to 20,000 hectares (which equates to more than 10,000 football fields.)
Definition of a paddock – in our case here in Northam, a paddock references open areas, fenced in, with cows, sheep, and horses in them.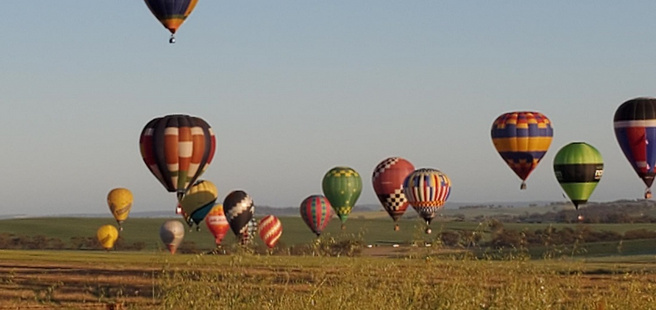 The Northam landscape
In Northam, landing sites for the hot air balloons are plentiful. Rolling hills. Rocky outcrops. Fields with yellow canola flowers. And fields of purple and green. While the spring season is just starting here, the area is mix of color, along with the "evergreen" eucalyptus trees with their shiny white bark.
Northam residents and people from as far away as the state of Victoria have been spectators at the launch sites. The public is kept informed about the plans for the balloon competition via Facebook posts from the local event organizers as well as the traditional visitor information center in Northam. A shoutout to all the great volunteers keeping the event going behind the scenes.
The final competitive flight slot is tonight, Friday, 8th September. The current standings, for tasks 1 to 19, for the 5th FAI WWHABC are:
1 Nicola SCAIFE AUS - 16 677 Points
2 Sanne HAARHUIS NED - 12 945 Points
3 Stephanie HEMMINGS GBR - 12 799 Points.
Stay tuned for the conclusion of the 5th FAI Women's World Hot Air Balloon Championship...
For more information, check out the Live Streams on FAI Ballooning Facebook page, as well as the other sources listed below.
Stay up to date

Balloons approaching a target
Photo Credit: Debbie Spaeth