Female pilots dominate the Helicopter World Cup 2nd stage
Russian helicopter pilot crew Elena Prokofyeva and Diana Riiazova took not one, but two golds during the 2019 Helicopter World Cup 2nd stage in Russia this July as part of the 54th Russian Open Helicopter Championship.
The pair came first in the General classes of both the Fender and Slalom competitions. Female pilots Irina Didenko and Svetlana Gumbatova, also from Russia, took third place in the same Fender competition.
The location was Konakovo airfield (UUEL) in the Tver region, which is specially set up for helicopter competitions. A total of 23 crews represented five countries in the competition: Belarus, Czech Republic, Poland, Russia, Ukraine. Eleven crews took part in the General class and 12 in the Masters class. All the crews were welcomed in the brand new club house at the airfield.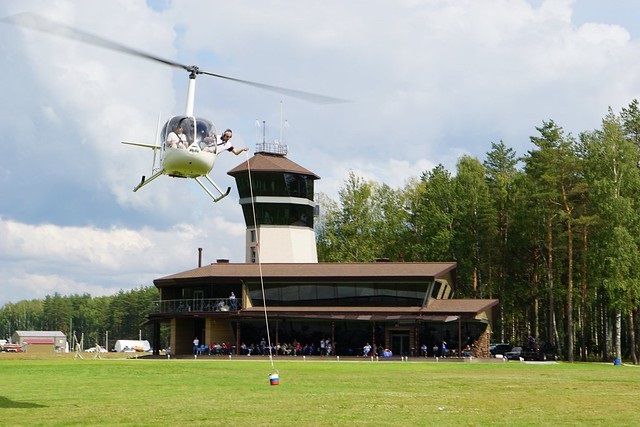 Intense focus and technical skill from the helicopter crews at the Stage 2 of the HWC 2019 in Russia
For both disciplines the crews performed two flights for qualification, which were followed by the "play-offs" with competition heating up during the quarters, semis and finals in both Fender and Slalom categories.
The overall leaders after these two stages, taking the sum of the crews' two best results in both disciplines in both stages are:
General class: Elena Prokofyeva and Diana Riiazova (Russia)
Masters class: Mikita Laptseu and Vladzislau Kurs (Belarus)
The 3rd stage of Helicopter World Cup-2019 will take place in Belarus, Vitebsk between 9th-11th August 2019.
Winners of 2nd stage
fender
General Class
Prokofyeva Elena - Riiazova Diana (Russia)
Senektutov Aleksey - Burov Nikolay (Russia)
Didenko Irina - Gumbatova Svetlana (Russia)
Masters Class
Sotnikov Maxim - Aleh Puajukas (Russia)
Tupikov Sergei - Pintelin Aleksei (Russia)
Degtyar Viсtor - Vasiliev Petr (Russia)

Slalom
General Class
Prokofyeva Elena - Riiazova Diana (Russia)
Senektutov Aleksey - Burov Nikolay (Russia)
Musiienko Vladyslav - Sokolov Igor (Ukraine)
Masters Class
Laptseu Mikita - Kurs Vladzislau (Belarus)
Yablokov Yury - Podoinitsyn Konstantin (Russia)
Degtyar Viсtor - Vasiliev Petr (Russia)


Helicopter World Cup 2019 Stages
Wycombe Air Park (GBR) 13 to 15 June
Konakovo airfield (RUS) 19 to 21 July
Vitebsk (BLR) 9 to 11 August