Virtual Gliding has a new real-life champion: Arne Martin Güettler
The seventh and final day of the 2nd FAI Virtual Sailplane Grand Prix came to a dramatic conclusion on Saturday 2nd September, with the top ten competitors all dashing over the finish line within the same minute!
Arne Martin Güettler of Norway had reached the top of the leaderboard after day six with 31 points, closely followed by Wojciech Soltysik of Poland with 27 points, Sean Churchill of Great Britain with 25 points, and Denmark's Tim Kielstrup Madsen with 21 points. But as the commentators pointed out, "Every point becomes crucial in the quest for virtual gliding glory."
And so it was that Dutch pilot Wiek Schoenmakers secured the day seven race victory with an exceptional performance, displaying remarkable determination. He was followed closely over the finish line by Poland's Zbyszek Tkocz, who earned a well-deserved second place, while Güettler finished in third, gaining enough points to claim the overall championship title.

Highlights from Day Seven's racing
FINAL Results
Arne Martin Güettler (NOR) - 37 points
Wojciech Soltysik (POL) – 28 points
Wiek Schoenmakers (NED)
NB: Zbyszek Tkocz (POL) also gained 26 points but due to the number of firsts achieved, Schoenmakers was placed in third position.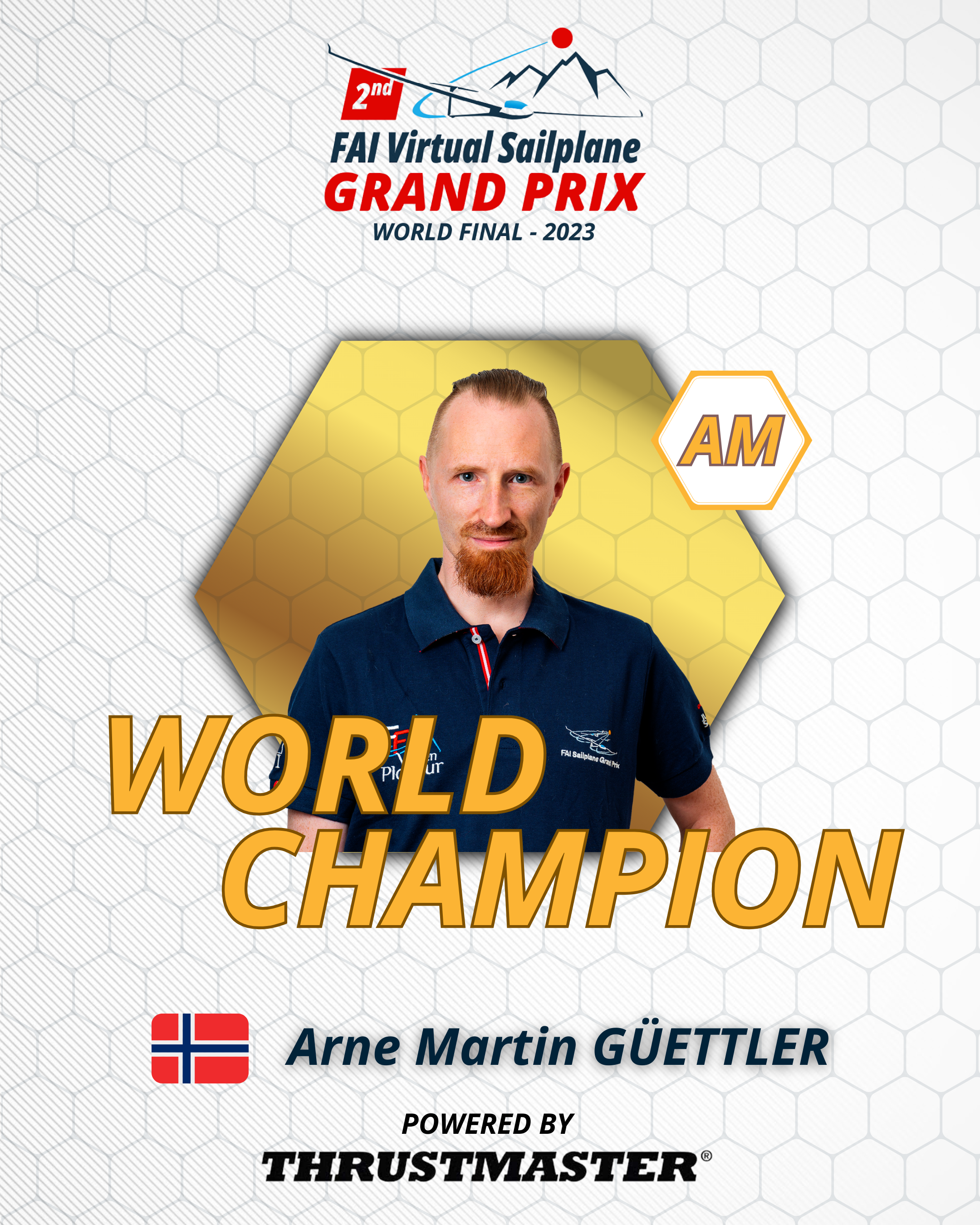 The Norwegian Virtual Gliding champion only started flying gliders at the age of 32, then entered his first national competition just two years later, with 110 real life gliding hours, and about 1000 Condor simulator hours. The gliding experience he gained in the air has served him well in the virtual skies above Pavullo, Italy, during the event which has run alongside the 11th FAI Sailplane Grand Prix.
Daily livestream coverage with two commentators provided viewers with expert insight into the seven days of racing, in which twenty pilots from 12 nations competed. Güettler will automatically go through to next year's competition, just as previous winner, Ben Fest of Germany, did in this year's championships.

Championship Director, Antoine Havet, commented:
"Arne-Martin's performance has been nothing short of extraordinary, and he is truly deserving of this prestigious title. This victory is a testament to his skill, consistency, and strategic brilliance throughout the week of competition.

Thanks to our lively online audience for joining us on this thrilling journey through the world of competitive sailplane racing. Stay tuned for more soaring adventures in the future, as the FAI Virtual Sailplane Grand Prix continues to captivate the world."