'Air Sports and the Environment': 2023 FAI Young Artists Contest Winners
Young artists from Lithuania, USA and Japan have taken the first prizes in the three age categories of the 2023 FAI Young Artists Contest. Countries participating in this year's edition were China, Finland, France, Hungary, India, Japan, Latvia, Lithuania, Poland, Thailand and USA. A total of 79 artworks were submitted to the final stage: the winning artworks of the contests organised in each country by FAI Member organisations.
Each year, artists under the age of 17 are given a theme from which to create an original artwork using their chosen medium. For the 2023 contest, the youngsters were inspired by the theme of 'Air Sports and the Environment' and explore the ways that air sports can interact harmoniously with our environment. Aviators, now and in the future, have a responsibility to push forward the limits of human innovation and imagination to harness cleaner energy and minimise the impact of air sports on the earth and its atmosphere.

Flying over famous landmarks, a plane fuelled by 'green power' spreads hope for a brighter future.
Daria Volovnik (POL) gained a bronze medal in the junior category
FAI wanted this year's young artists to encapsulate this important topic in their 2023 competition entries. The theme included the following call to action:
"Artists often take the lead in imagining a brighter future. It's time to take your favourite art materials and conjure up a vision of how air sports of the future can help to keep our planet safe for the generations to come."
Imaginative flying machines and the wonders of nature were common motifs in the entries. Youngsters demonstrated their knowledge and passion about the environmental crisis through ideas such as drones being deployed to distribute water and clean up ocean pollution, and representing aircraft made of recycled materials or harnessing clean energy.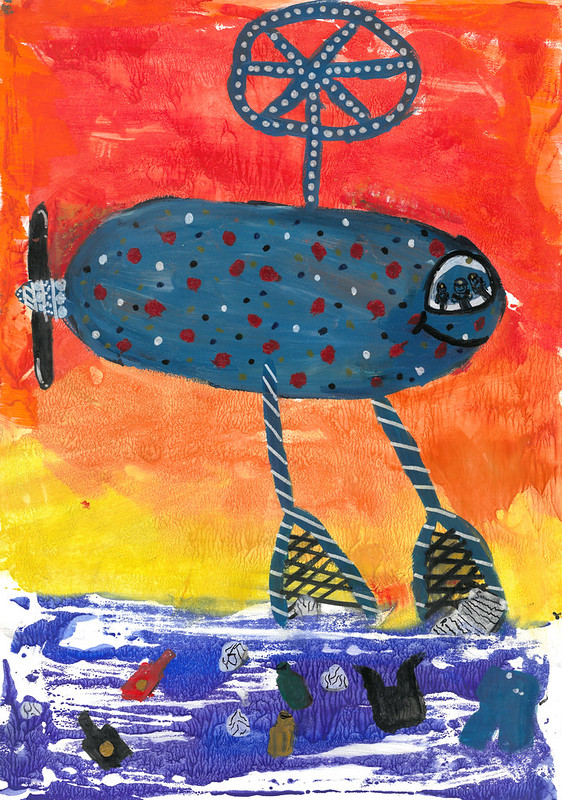 Ula Tankunite (LTU) gained first prize in the junior category
with this innovative idea for cleaning our oceans
2023 FAI Young Artists Contest Winners
Group I - Junior Category (ages 6-9)
Ula TANKUNITE (LTU)
Yuhan LAM (USA)
Daria VOLOVNIK (POL)
Total number of paintings submitted = 24 from 9 FAI Members.
Group II - Intermediate Category (ages 10-13)
Jihyeon (Elly) HAN (USA)
Julia NURMINEN (FIN)
Suparada PAOSATHEANPAN (THA)
Total number of paintings submitted = 29 from 11 FAI Members.
Group III - Senior Category (ages 14-17)
Seiji NAGAHARA (JPN)
Bartosz BAK (POL)
Alexandra GALUS (POL)
Total number of paintings submitted = 23 from 9 FAI Members.
FAI warmly congratulates the artists and extends thanks to the member countries who organised the national competitions for 2023. The winners will be awarded FAI Gold, Silver and Bronze medals.
The theme for the 2024 contest will be announced soon.
Header image: Jihyeon (Elly) Han of USA created this beautifully detailed and powerful portrayal of the importance of harnessing recycled materials and adopting clean energy, which was awarded a gold medal in the intermediate category.