5th FAI Women's World HAB Championship finishes with Three-Peat Winner
By: Debbie Spaeth (USA), Chair CIA Public & Media Relations SC
The 5th Women's World Hot Air Balloon Championship (WWHABC) had great weather for the final competition slot. Flight #7 was a Hesitation Waltz (HWZ) with three possible targets from which to choose. It was a picture-perfect evening for this last championship flight in Northam, Western Australia.
Winner of Task #20 HWZ:
Stephanie HEMMINGS - Great Britain 1.46m
Pilots waited for the standings to learn their final ranking in the competition. Nicola Scaife was secure in 1st place with a +3500-point lead over 2nd place. The final competition standings were published. The podium winners were:
Nicola SCAIFE - Australia 17,240 points
Stephanie HEMMINGS - Great Britain 13,799 points
Sanne HAARHUIS - Netherlands 13,592 points

Podium trio. L-R Sanne Haarhuis, Nicola Scaife, Stephanie Hemmings. Credit: Ruth Wilson
The Awards Ceremony was held in the Northam Recreation Centre. Pilots, crews, officials, volunteers and Northam hosts enjoyed refreshments and light food whilst sharing stories from their adventures in Northam.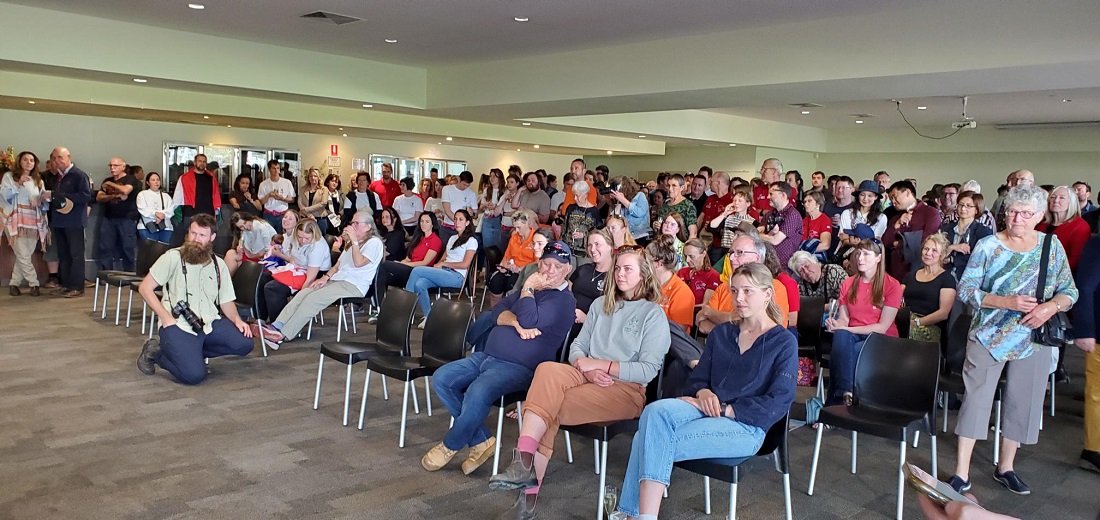 The crowd at the Awards Ceremony. Credit: Debbie Spaeth
All pilots received a commemorative medallion from the Northam Host Organization.

Next, winning nations for the team ranking were announced. This is based on an average of points earned for the pilots flying for each country. FAI certificates were presented to the winning team members. These results mirrored the countries of the pilots on the podium, namely:
Team Members for Australia: Nicola SCAIFE, Georgia CROFT, Josie WHITE, Alana KAHL, and Scarlett SAUNDERS. 614.1 average points per task
Team Members for Great Britan: were Stephanie HEMMINGS, Chloe HALLETT, and Lindsay MUIR. 590.0 average points per task
Team Members for Netherlands : Sanne HAARHUIS and Iris BROEDERS-VAN HAM. 534.4 average points per task
Presented by The Hon Darren West, representing the Deputy Premier, the Northam hosts presented trophies with etched balloons to the podium winners. FAI certificates and medals were presented by Debbie Spaeth (USA), FAI Jury President, assisted by Event Patron, Mrs. Tonko Ichiyoshi (Japan).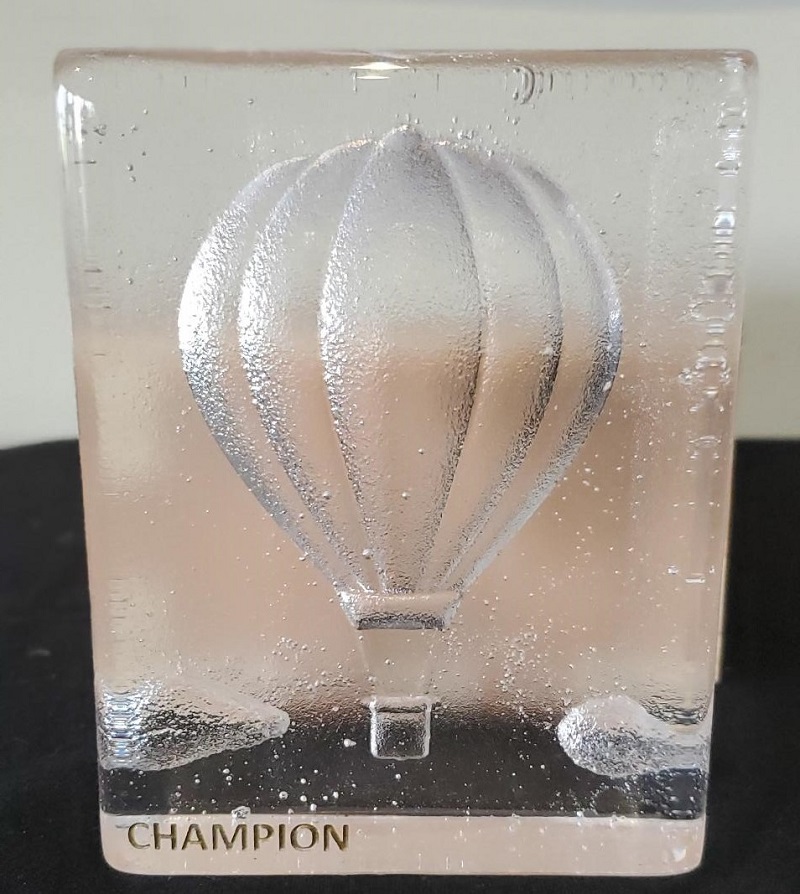 Northam Champion Balloon Trophy. Credit Debbie Spaeth
Champion Nicola Scaife spoke from the podium. She is a three-time winner of the Women's World HABC; in 2014, 2016 and now 2023. She placed 3rd in the 2018 Women's WHABC. This was her final competition event which contributed to her drive to do her best. She thanked her crew, her Aussie teammates, and the entire field of competitors for a great event.
Errol Croft, President of the Northam Aero Club, and host for the Aussie BBQ for pilots and crews after each morning and evening flights, closed the program. He thanked the organizers, volunteers, and the Northam community for their support of the event and gave a special thanks to Margie Putland and Gren Putland for their work supporting the event.
And with that, a fun week of flying, making new friends and declaring the new Women's World HAB Champion came to an end.
More about the WWHABC 2023

Nicola Scaife, 2023 champion of the 5th FAI WWHABC. Image via Northam Ballooning Events