Interview: Paramotor Pilot Alex Mateos on his 6th World Champion title
French paramotor pilot Alex Mateos is no stranger to the podium. A six times world champion, he gained his first French title in 2010 and has competed around the world In this interview, he looks back at his significant career which started off as an opportunity to hang out with friends, and shares an insight into how the sport has changed since the early days. He also reflects on the recent 5th FAI World Paramotor Slalom Championships in Spain and how he and his partner Marie, also a champion paramotor pilot, support each other during training and competition.
How did the competition go for you this year in Spain? What were your expectations and hopes before arriving?
It was an interesting competition, I had a new Polini motor and a new Ozone wing, which changed my set up and the sensation compared to the previous year. Luckily we had some training time the day before the competition started which allowed me to adapt my reflexes! Last year with Naïf (Team Qatar) we had very close results. This year I got a bit further ahead and there was a new competitor from Qatar - Eissa – who stood out.
When you started competing in paramotor, did you dream of winning so many champion titles?
No, absolutely not, when I started competing it was just a way to meet up with friends and fly together, the results were a bonus. Then I got more into it, which allowed me to constantly progress and improve.
Your team had 10 pilots this year. What makes the French team so strong?
I think we have a strong core of experienced pilots which helps new pilots to progress. We are also lucky to have help from the French federation for paramotor FFPLUM which gives us a budget that spreads far enough to allow us to participate in competitions and get enough training to perform well.
You made some FAI records a few years ago, for shortest time in the Clover Leaf and Japanese slalom circuits. What are your memories of this and have you had any thoughts of attempting records in the future?
Haha, what a great memory; it was actually about 10 years ago, now! Paramotor has progressed a lot since then, with new possibilities, better safety over water, new circuits... I don't remember when I last flew Clover Lead and Japanese Slalom circuits, but at that time we were flying at 65km/h and nowadays we can fly faster than 100km/h. I'm not saying the circuits are outdated, but these days I wouldn't want to do them over the ground as it would be too dangerous; my new circuits are around pylons over water. I do still think about record projects, but between training and competition I can't devote enough time to preparing myself necessary performance.

Slalom paramotor takes place around pylons over water
Are there any particular pilot/s that you always hope to beat? And any young pilots to watch for the future?

I prefer to say that I don't compete against others, but against myself. I try not to make mistakes, to stay focused and to have a precise training program. I train alone or with Marie, my partner. So it's really only against myself that I compete.

There are new pilots coming from different countries, such as Lithuania, Qatar, Czech Republic... There are only a few younger pilots who are entering competitions at the moment; I'd like to see more but to perform at this level we need more expensive equipment which needs to be renewed very regularly to stay abreast of technology, and so younger pilots don't always have the budget for that.

Luckily, flying for pleasure requires less financial investment and paramotor remains one of the least expensive air sports, which is very widely accessible. It's always interesting to see new styles of flying, which means older pilots have to shift to retain their level, and then also inspire new pilots.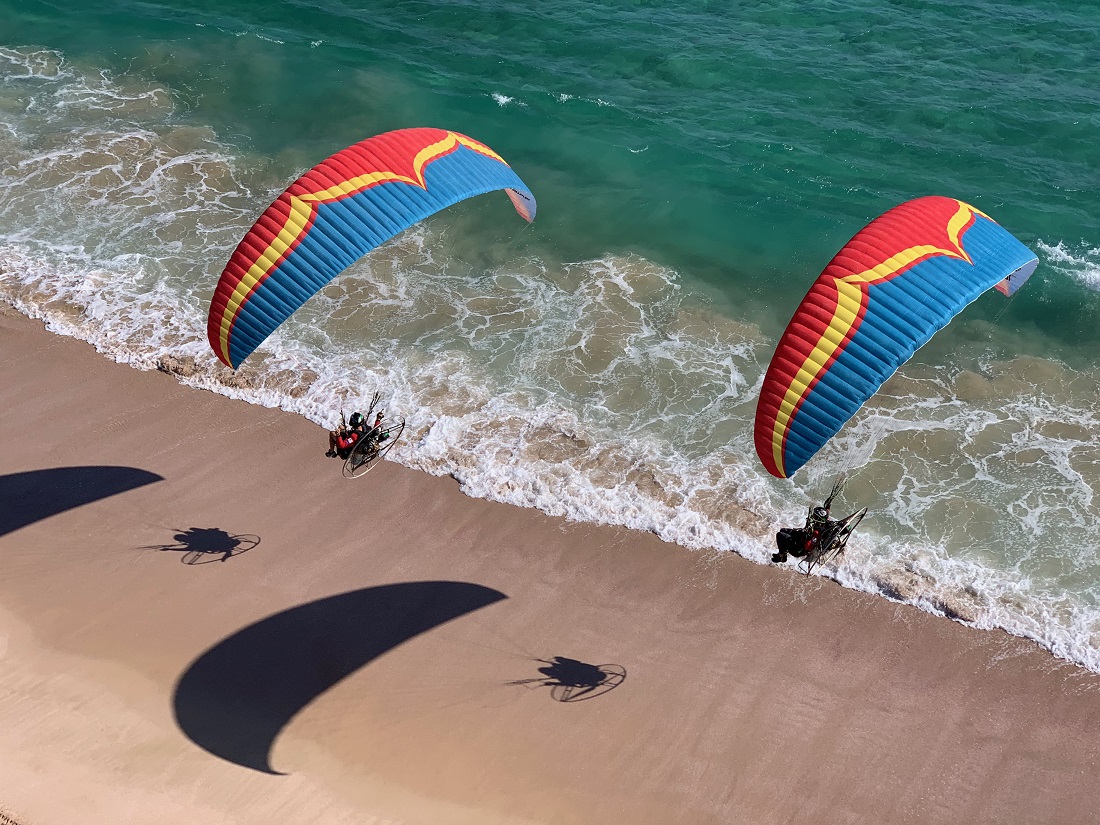 Image: Blaise Brogan
And finally, how do you balance the competition and your relationship with Marie, is it difficult to support each other at the same as competing?

Better and better! Previously we were very competitive, but we gained a lot more by sharing training and information together. This allowed us to maintain a good lead in front of other competitors, especially in classic competition (we held the top two steps of the podium in the French Championships for six years consecutively!) For the Slalom Marie needs a higher training volume and in France at the moment we cannot train as we would like to because of restrictions.
Alex Mateos' titles
World Champion Classic
World Champion Slalom
European Champion Classic
European Champion Slalom
World Air Games gold medal
Champion of France

Image: Dalila
Images supplied by Alex Mateos.