9 world champion titles: interview with scale modeller Andreas Luthi
Swiss aeromodeller Andreas Lüthi took a gold medal at the 2022 FAI F4 World Championships For Scale Model Aircraft in Norway with his Bücker Jungmann 1.131E in the F4C category. In this interview he reveals his journey in aeromodelling and shares his thoughts on attracting the next generation to the sport.
Andreas, when did you start aeromodelling, and how many years have you been building and flying scale models at such a high level?

I have been interested in aviation since an early age. My father - a farmer's son who was enthusiastic about flying but had no real opportunity to live out his passion - used to take me to flight meetings and to various airfields in Switzerland. That's how he introduced me to aviation. At the age of six I built my first glider from wood and cardboard according to my own drawings. Many self-constructions followed and they moved through the air more or less successfully. I flew remote-controlled models for the first time when I was 18.
I was always fascinated by the flight image of a machine, so I tried to give my planes an original look. The Bücker planes were among my favorites. Among other things, I have remained true to them to this day.
In 1992 I started in Muncie (USA) at my first world championship and came second. I well and truly caught the bug!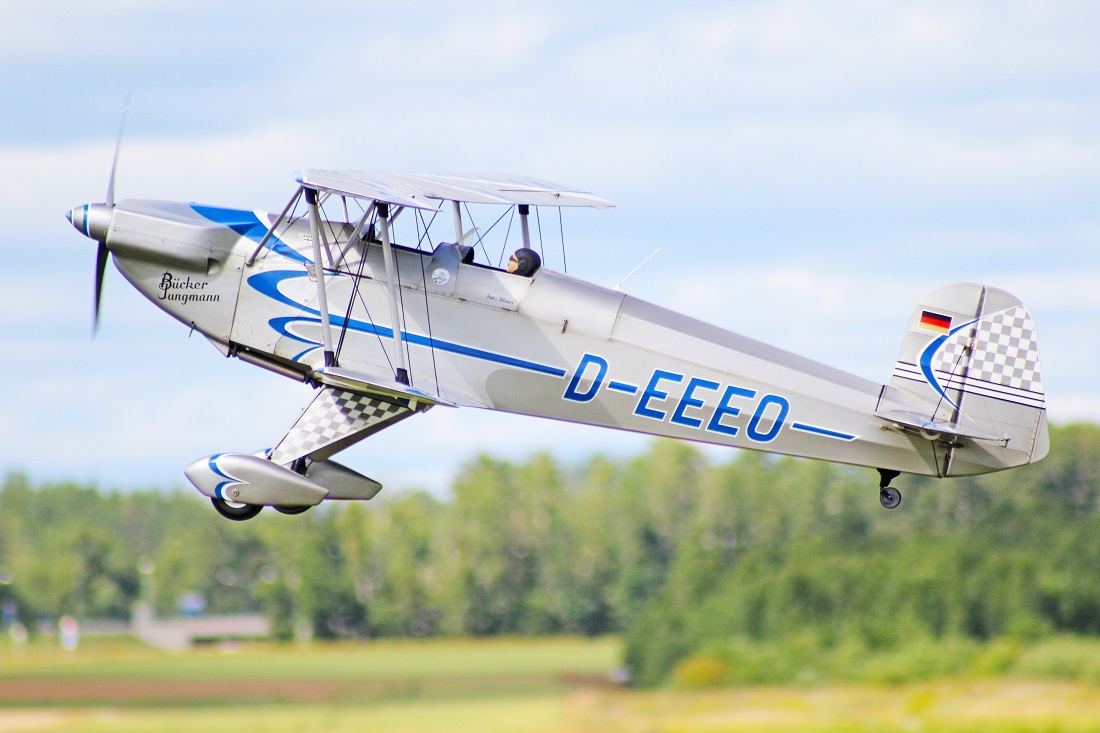 Andreas' Bücker Jungmann 1.131E
How long did it take you to build the new model you presented in Norway?
I built my new Bücker Jungmann 1.131E over six years, totalling 4,500 hours pure construction time. I kept a journal with the construction times because I'm interested in how much time I invest in a project like this.
How long do you practice for, in the run up to a competition?

The machine flew well the first time, but for the precision adjustments I required around 60 flights practising in the run up to the World Championships in Norway. There is of course still room for improvement.
This is your 9th World Champion title. How do you feel about that? Are you surprised by your success?

My first World Championship title in Interlaken, Switzerland in 2000 was a great experience! Now, already 9 titles - I can hardly believe it myself! Each of these achievements has its own story and is no less precious to me. I had hoped that my new plane would go well in Norway, but I wasn't sure at all that I could continue the success; that's why I'm particularly pleased with this result.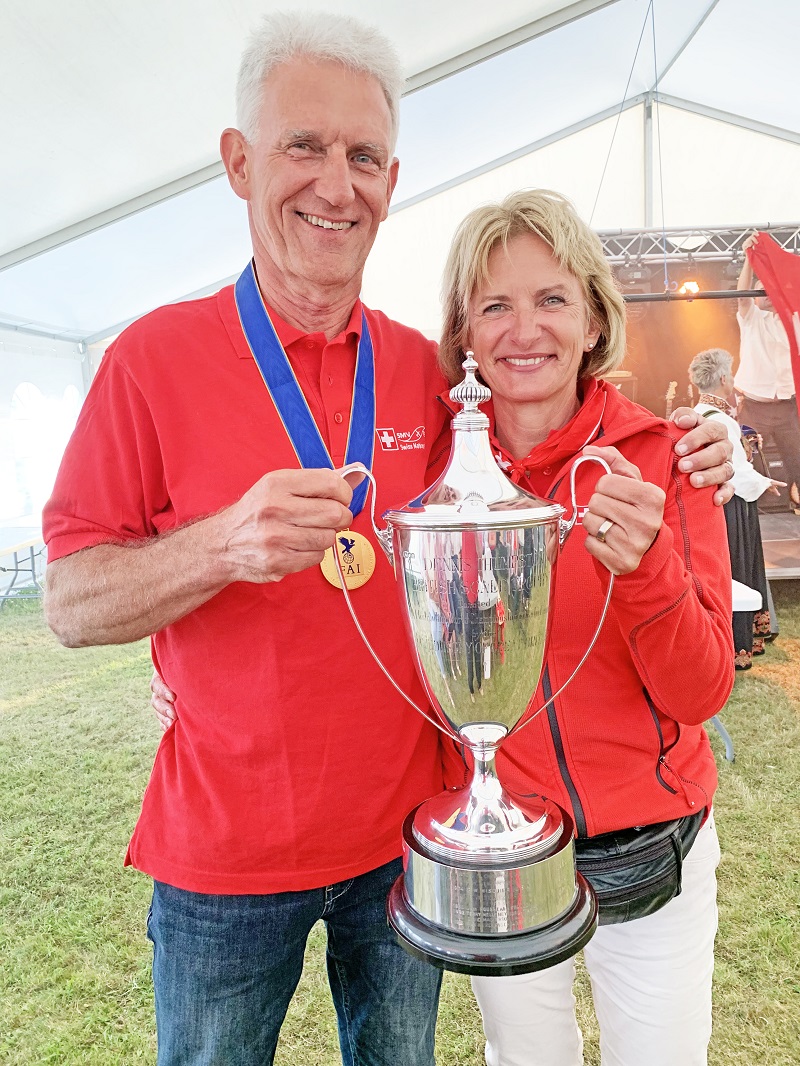 Andreas and his partner with the trophy
What are your plans for the future, and what do you think you might build next?
At almost 70 years old, my primary goal is to stay healthy. I have been training to keep fit for a long time, as it helps to withstand the competitive pressure at a World Cup.
Before I tackle a new project, I would like to optimise the new Bücker, especially in terms of flight.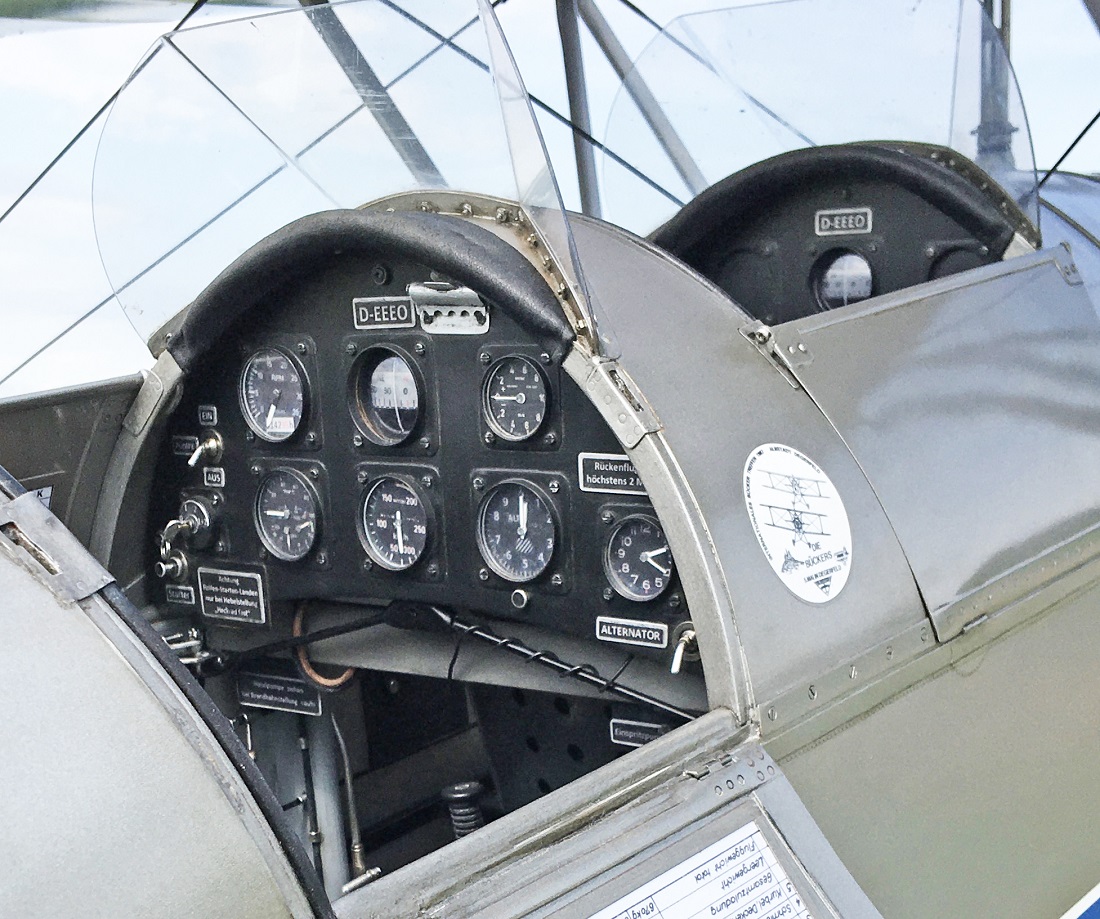 The Bücker's cockpit
How can young people be encouraged to try aeromodelling?
In my job as a teacher, I proposed building model airplanes on a voluntary basis, which yielded great interest from girls as well as boys. After the successful introduction to a possible new hobby, it was important to take care of repairing any damage; otherwise the enthusiasm quickly died out - a lot of effort can earn a little success!
In my opinion, building courses, taster days at model flying sites with student-teacher operations and participation in school holiday activities are successful approaches to getting young people enthusiastic about model flying.
Do you have any advice for the next generation of competitors?
Have the courage to participate! It is worth taking part in a championship without great expectations just to meet experienced pilots who can give important tips. With the right knowledge, you don't make unnecessary, demotivating mistakes and success is more likely. You can't guarantee success, but you can get closer to it with diligence and perseverance.
The joy of building and flying must be the main drive; this makes it easier to absorb disappointments at competitions. I, too, had to pass some matriculation tests and earn success.
Above all, I wish all those who have the "model flight" bug to continue and have fun and success in pursuing their hobby!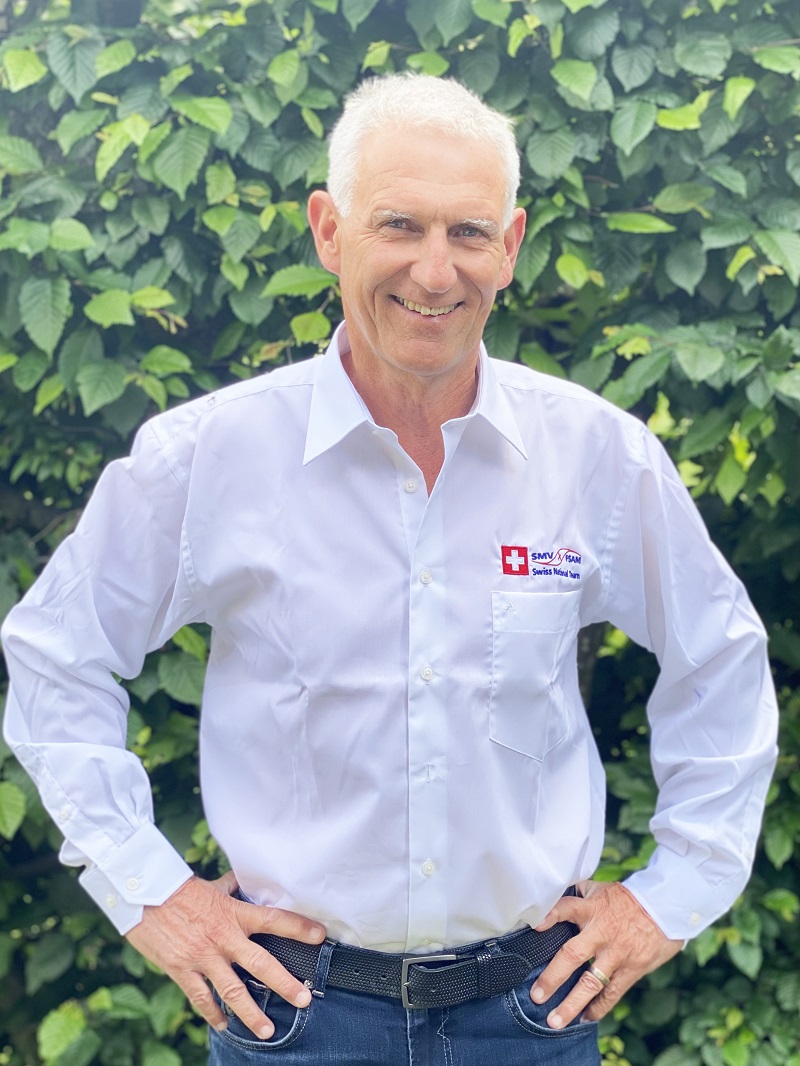 Images: Andreas Lüthi