70 years since Jacqueline Cochran became first woman to break sound barrier on 18 May 1953
Jacqueline Cochran was already a highly decorated pilot with numerous speed records to her name when she slid into the cockpit on 18 May 1953 ready for another record attempt.
The aircraft was a Canadian-built F-86 Sabre Mk, loaned to Cochran by the Canadian Air Force. Her goal was a speed record, over a distance of 100km above Rogers Dry Lake, California, USA.
In her autobiography, published in 1987* the famous American pilot recalled her challenge:
"I'd get two chances—just two—to set my record because that's all the fuel the plane could carry. If all went well, I'd have a margin of two minutes of fuel after two complete passes. But could I hold that plane in a banked position of 30 degrees for a 63-mile circular flight and beat Colonel Ascani's mark of 635 mph?"
Ascani had reached gained a speed record of 1,023.04 km/h in 1951. On 18 May 1953, Cochran, who had trained on the course in a T-33, recorded a speed of 1,050.15 km/h, beating him by 27 km/h. She also became, on that day, the first woman to break the sonic barrier.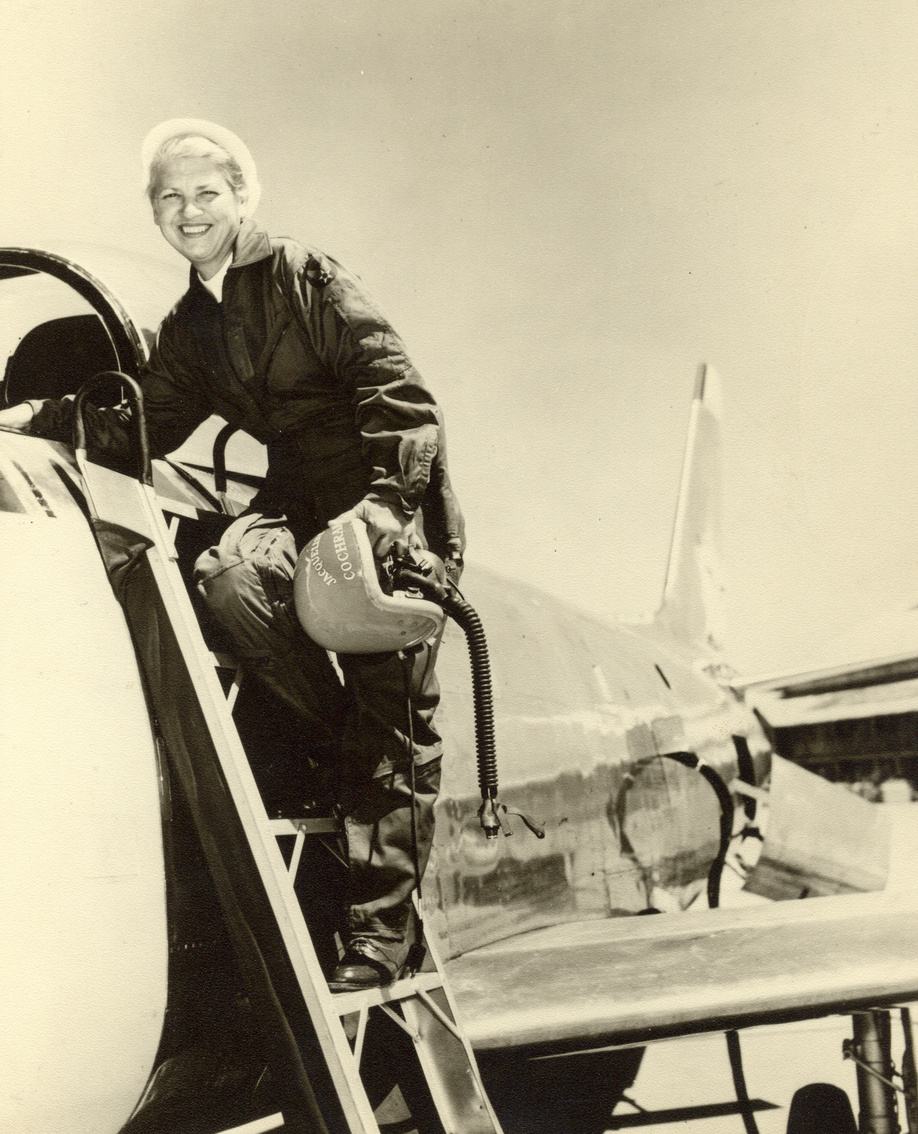 Photo of Jacqueline Cochran from FAI record file archives
Records from 18 May 1953
What is the sound barrier?
The speed of sound varies, depending on air quality. At 20°C the speed of sound in dry air is 343m/s. As an aircraft approaches the speed of sound, it experiences a steep rise in aerodynamic drag. The sound waves the aircraft creates spread out ahead of it, but once reaching sonic speed, the aircraft catches up with these waves and results in a sonic 'boom'. Local shock waves form on the exterior of the craft causing unstable airflow and resulting in loss of control and stability.
Physicist Ernst Mach published a photograph in 1887, showing the shock waves of an object moving at a 'supersonic' speed. His research led to the term 'Mach number'. The ratio of the speed of an object to the speed of sound is known as Mach 1.0.
Up to WWII aerodynamicists believed that Mach 0.7 was too dangerous for a human to exceed, although they knew that, for example, bullets could surpass this speed. Finally in 1947, inspired by a top-secret British design (the Miles M.52), the purpose built rocket powered Bell X-1 created a 'sonic boom' as Chuck Yeager flew it over the Mojave Desert, apparently experiencing no ill-effects and demonstrating that humans could safely travel beyond the speed of sound.
It was Yeager who flew just behind his friend Jacqueline Cochran on her attempt to break the sound barrier at Edwards Air Force Base, California, USA. She reported seeing shock waves roll off the canopy of the aircraft and felt two sonic booms as she hit Mach 1. The dramatic sound effect was not heard on the ground, and so Cochran made a second attempt straight afterwards, which was confirmed by the control tower.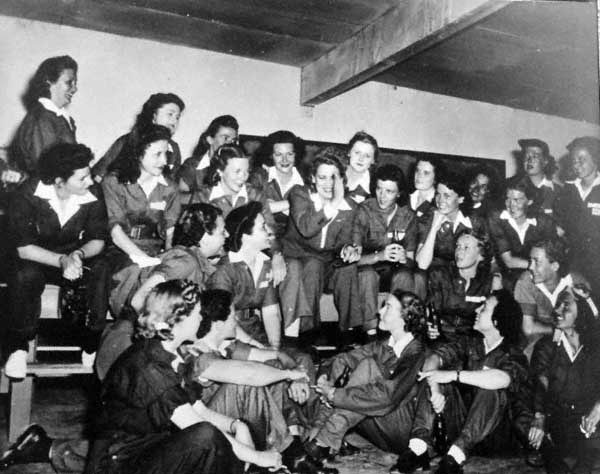 Jacqueline Cochran (centre) pictured with trainee female pilots
A woman on a mission
Jacqueline Cochran – known as Jackie – was an ambitious woman from a humble background who discovered aviation after her millionaire husband suggested that taking to the skies would be a good way to expand her cosmetics business. Throwing herself into the endeavour, Cochran gained her licence in 1932 after only three weeks of training. She had to request to take an oral test instead of the written test, as working during childhood meant that she had poor literacy skills. Through the 1930s, Cochran competed in air sports competitions and became a close from of Amelia Earhart.
Her formidable character and courage drew her to propose to Eleanor Roosevelt in 1939 that female pilots be used by the US government to support the military effort, following the lines of female European pilots. Her requested was initially refused so in 1942 she flew to England and joined the British Air Transport Auxiliary, to transport aircraft. Returning to the US, she began to train female pilots, as a director in what eventually became known as the WASP (Women Airforce Service Pilots) unit. She was decorated for her service becoming the first woman to receive the Distinguished Service Medal.
collecting records
After the war, Cochran started racing again and began to focus on flying jet engines to break speed records.
During the week in which she had been loaned the Sabre, Cochran also gained a speed record for a distance of a 500km closed circuit (reaching 950 km/h) and an altitude record of 14,377m. Between 1937 and 1964 during her active years as a pilot, Cochran collected numerous speed records as well as some for distance and altitude. In May 1964, aged 58 years, she set three speed records and flew at Mach 2 in a USAF Lockheed F-104G Starfighter.
first female Fai president
In 1958 Jacqueline Cochran became the first female President of the World Air Sports Federation and served for two years. She was the first woman to be inducted into the Aviation Hall of Fame. When she died, she held more records than any other pilot, male or female, and was awarded three FAI awards including the FAI Gold Air Medal for her achievements in 1953.
*Jackie Cochran: An Autobiography, by Jacqueline Cochran and Maryann Bucknum Brinley, Bantam Books, New York 1987, pages 274–275.