Meet Serafina Ogonczyk-Makowska, new FAI Rotorcraft Commission President
The FAI Rotorcraft Commission (CIG) has elected the pilot, lawyer and businesswoman Serafina Ogończyk-Mąkowska as its new President. Her energy, diplomatic skills and deep-rooted passion for aviation are sure to serve her well in this new role, as we find out in this interview, which gives an insight to the motivation that lies behind her dynamic career as a helicopter pilot and judge, competition organiser and now, commission president.
Tell us about your journey in aviation: when did you first learn to fly, and what three words best describe your first solo flight?
I started my flying course in 2016. I enjoyed the whole process very much. I began with planes, then went on to learn to operate helicopters.
The first solo is a moment that every pilot remembers vividly. I felt excitement, freedom, independence. The feeling of joy, of self-responsibility was overwhelming.
What is it that you especially enjoy about helicopters?
Helicopters give you a sense of autonomy, with the possibility to get to different places without the need of having an airfield. It's more difficult to operate to start with, in comparison to a plane, but it pays you back with a huge amount of satisfaction.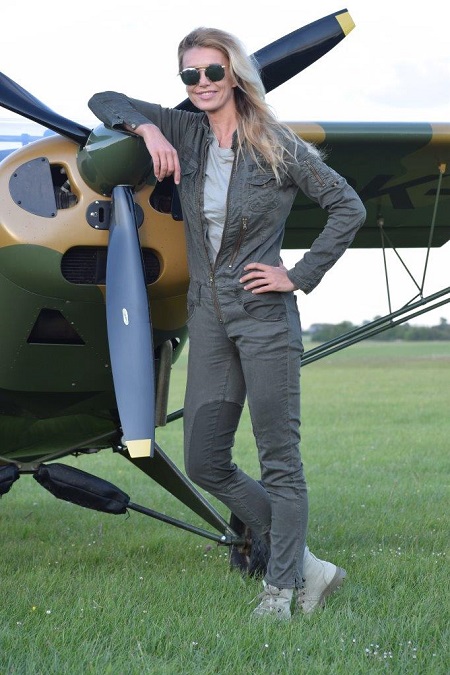 When did you begin competing, and how long have you been part of the Polish Helicopter Team?
I have been part of the team since 2018, and I am also an international heli judge as well as an active participant of the sport competitions.
What are your proudest moments in aviation?
Definitely the first solos, then my first participations in competition, passing my ATPL exams, acquiring ME, IR and CPL competence, graduating from the Airforce Academy and now, becoming the President of FAI CIG.
You mention that you have interviewed other aviators for publications – who in the world of aviation has been an inspiration to you?
My instructors: Kamil Pucko, Tomek Osip, Sebastian Komosa were my everyday inspirations. Needless to say, I took up flying helicopters because of Marcin Szamborski – the amazing pilot and gold medal winner in heli sport. I heard about his achievements, about his "Round the world trip" in a helicopter and I decided that I want to learn from the best. I called him and he agreed to teach me. We have a lot of amazing aviators in Poland: top acrobatic pilots, like Artur Kielak, gliders, such as Jerzy Makula, and paragliders, including Wojtek Bógdał, so the source of my inspiration is really deep.

International Helicopter Races 2021 in Płock, Poland
How did you find the challenges of helicopter event organisation, and how did your professional skills help with this?
Organising the helicopter event requires several different skills. You need to take care not only of the sport, and the formal side: crews, judges, accommodation, permits, visas, security, infrastructure, etc., but also you need to take care of the entertaining side as well - marketing, public relations, press conferences, awards event, etc. I run my company which has dealt with organising large scale events for many years so that experience definitely helps to conduct successful helicopter competitions.
What is your vision for your tenure as President of CIG?
I intend to be an active President! We are facing now difficult times in heli sport; I want to do my best to revive the Heli Family whilst retaining its integrity, and inspiring and supporting as many events as possible worldwide.
Do you have any thoughts on how more women could be encouraged to participate in air sports competitions?
The number of women has grown over the years, but still the majority of people in aviation are men. Worldwide women pilots comprise 7% of all aviators. In Poland we have 51 women with the Airline Transport License (in comparison to 1388 men), and with CPL (A) it is 139 women to 1876 men. The number of helicopter licenses is smaller CPL (H): 12 women to 322 men. In 2022 only 6 women obtained their PPL H license in Poland in comparison to 64 men.
Nevertheless, I have amazing women friends participating in heli races, flying in rescue teams (Gosia Rutkowska) who are models for others. By showing the presence of women in aviation and in sports competitions we are setting a good example and good practice that can encourage ladies to become active pilots.