The ups and downs of a world record holder - paramotor pilot Karen Skinner
Karen Skinner has a head for heights and a taste for speed. With eight world paramotor records to her name, since starting to compete in 2004 she has taken the paramotor world by storm, often capturing the incredible scenes below her feet with the trusty camera that accompanies her every flight.
In acknowledgement of her impressive achievements, Karen has been presented with the FAI Ann Welch Diploma, not once, but twice, for distance and altitude: in 2015 for the world record of 6250 m altitude in a Paramotor on 6 June 2013, and in 2020 for the distance of 309.93 km over a closed circuit without landing.

Video of the 'Distance over a closed circuit without landing' record in 2019
Current records
Distance over a closed circuit without landing (23 March 2019) – 309.93km
Tandem, time to climb to a height of 3000 m (21 April 2015) – 41 mins 25 sec
Altitude (08 Oct 2013) – 6250m
Time to climb to a height of 3000m (06 June 2013) – 22min 5sec
Distance in a straight line without landing (27 Oct 2009) – 440.9km
Yet as Karen acknowledges, breaking records is not all plain sailing, with many frustrations involved along the journey and numerous factors affecting the chances on the day; learning from the failures is vital to future success.
We interviewed this determined pilot to find out what inspires her to push her limits and discover how she has contributed to increasing female participation in paramotor.
Why paramotor? What is it about the sport that appeals to you and how did you first come to try it?
I took to the sky for the first time when I was 8 years old, in the UK with my uncle who had a share in a microlight. The weather was great, and I was truly mesmerised by the experience. From that day, I knew I would become a pilot.
Many years passed without me being able to afford the training, but my dream lived on; I moved to Spain 30 years ago and regularly visited air clubs with my husband, who also wanted to fly. Then one day in 2004 we saw someone flying a paramotor near where we lived. We had no idea what it was, but we had to find out! After investigating we found a school near the Pyrenees and we both started on this amazing journey.
There are so many advantages to flying a paramotor: within a couple of weeks training, you are flying. Also, you can store a paramotor at home, without the need for a hanger. They are easy to transport in the back of you van and you can fly foot launch or with wheels (trike).
How did you move from flying as a hobby to breaking world records?
As soon as I started to build confidence in my launches and landings, I looked towards competitions as I thought that this would be the best way to progress and gain experience. My biggest dream has always been to fly distances and my husband is often the one driving the van to follow me on a one-way trip.
My first distance trip was 260 km crossing Catalunya in Spain, which was amazing. I love to challenge myself and once I realised that I was capable of flying for longer than 5 hours the desire to fly further was ignited… My hobby turned into making and breaking world records.
The satisfaction I get when I have achieved something in paramotor that no other female – and in some cases male – has ever done, is incredible.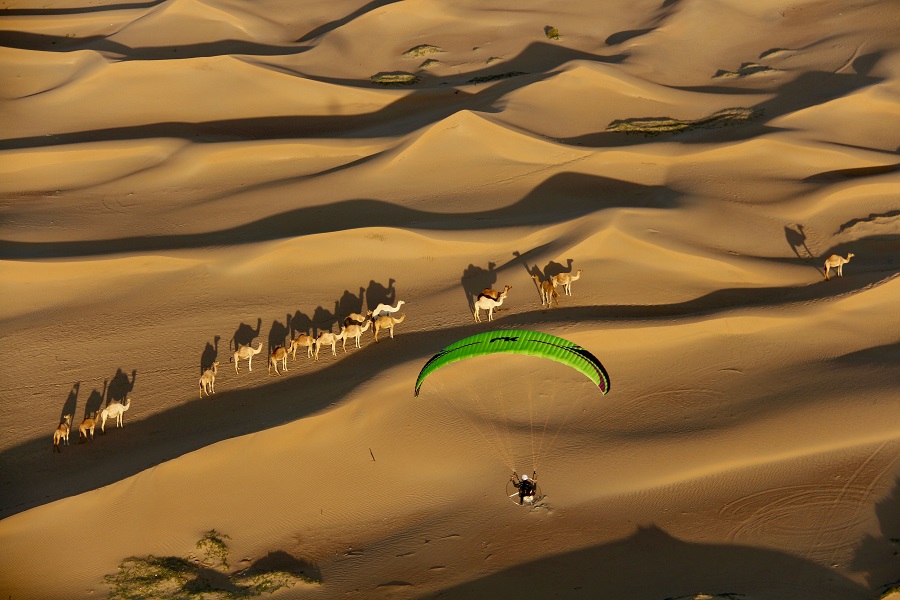 Karen combines her love of paramotor with a passion for photography - an image of her busband taken in Dubai
One your aims when attempting records is that your achievements will encourage more women to participate in the sport of paramotor. You were active in your support for female participation in paramotor competitions, what do you think were the disadvantages for female pilots competing against men?
When I started in competitions, I was surprised that not many females were taking part. Back in 2009 there was the disadvantage of the weight of the equipment, so I imagined that the weight of the engines could be a factor in female participation, but I decided to investigate a little more and I found out that whilst paragliding did have a female category, paramotor didn't, so my new mission became to change this.
I believe that to gain experience it is important to take part in international competitions, but at that stage women were not included in the international teams from their countries; there were only six places available and all of them went to the top six which were all men, as the male pilots were better. The only way women were going to get better and have the support of the federations was to have a female category.
I would like to add that I never wanted a separate category – I believe it's important that we compete against men, to see the evolution of women in paramotor. Today I think that female pilots have proven this point, there are a few of us that have won tasks overall and we have also seen women on the general podium, which proves we can do it too!
Has female participation improved since the addition of the category? And what other ways could paramotoring attract women pilots?
Yes, in the first year that the female category was created we achieved more world records then the men, 12 in total! Although the competition scene has been slow, this year more than ever we have many younger females flying paramotor.
We are finally attracting more females, there are certainly many more than when I first started flying. For example, years ago I would go to a flying festival in Spain & I was the only female; but at a recent event I attended there were six females flying.
A particularly important contribution is that the evolution of paramotor equipment has been amazing – they are now much lighter and easier to start.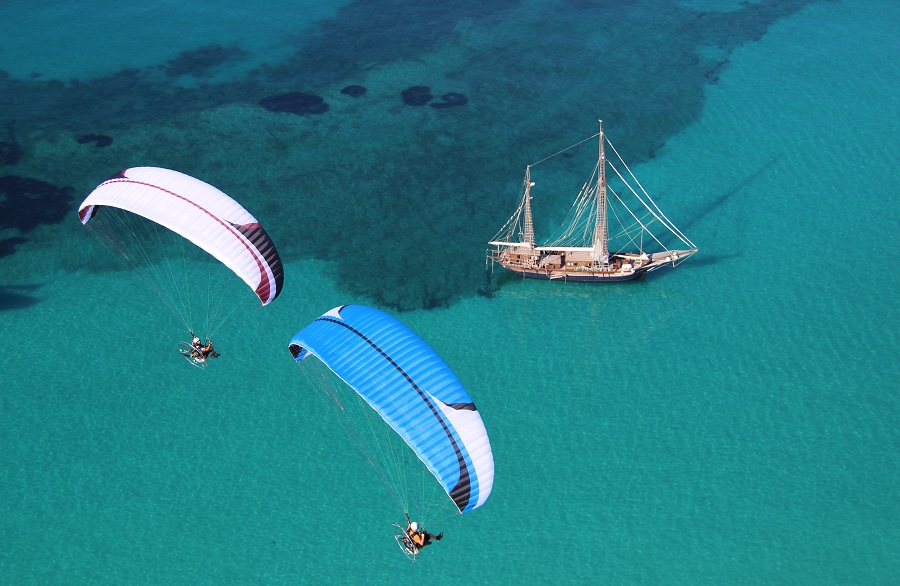 A photograph taken by Karen Skinner whilst flying paramotor.
What records are next on your list, and how will you beat them?
My plan in 2020 was to achieve two more world records - one of them in a trike - which would bring my total to 10, but unfortunately Covid prevented that from happening, so this plan has been postponed to this year. We have had a difficult start to the year, but I believe I can make it happen.
Do you have any words of wisdom for any paramotor pilots wishing to break records?
A lot of work goes into world records and people only ever see the success. Yet there can be many failed attempts from which we must learn. We never really get to talk about the failures and the anxiety to attempt something can blind us to the simple reality that "today is not the day".
It is difficult for anyone to travel over 1000 km with the crew, and then decide that it's not going to happen due to a change in the weather forecast or a technical problem. I have had these experiences and I have made mistakes, but luckily, I have learnt from them. I have a great group of close friends as well as my husband who help me to make the right decisions at the right time.
Perseverance and support are vital. Could you talk us through one of your most memorable record-breaking flights?
One of many flights that brings a huge smile to my face is my height record of 6,250 m, which was in Castejón de Sos, Huesca, Spain. The weather forecast was excellent for about a three-day period. On my first attempt, I broke my previous record reaching 5600 metres when the oxygen supply stopped working. I knew that the conditions were perfect to get even higher, so I felt really disappointed, but on the ground, the crew checked the oxygen equipment and discovered that it was actually my fault for not closing the door of the battery compartment properly! So, I decided to have another go the next morning. I took off around 11.30am, and headed up, it was magical watching the clouds develop beneath my feet, I could now see the Aneto Mountain range in the distance & I headed towards it. As I reached 6250 metres my engine started to lose power due to the lack of oxygen, so I slowly headed down, taking my time to enjoy the moments of realising one of my biggest dreams.
The views were incredible, the thermal activity was now working well at the paragliding site beneath me, and I could see a lot of pilots flying, I was so much higher that they looked like tiny little objects hanging in the sky. I stayed there for a while just working my way down enjoying this unique moment of being the highest pilot above the mountain, I could see pilots heading over towards me, maybe thinking that I was paragliding, and they too could find the lift to get higher, but I'm sure as soon as they got close enough, they could see my engine and all hurried back towards the mountain!
I headed back to the landing field, the flight stayed in my mind for weeks afterwards - I was still up there in the sky, so happy and lucky that I had achieved another world record.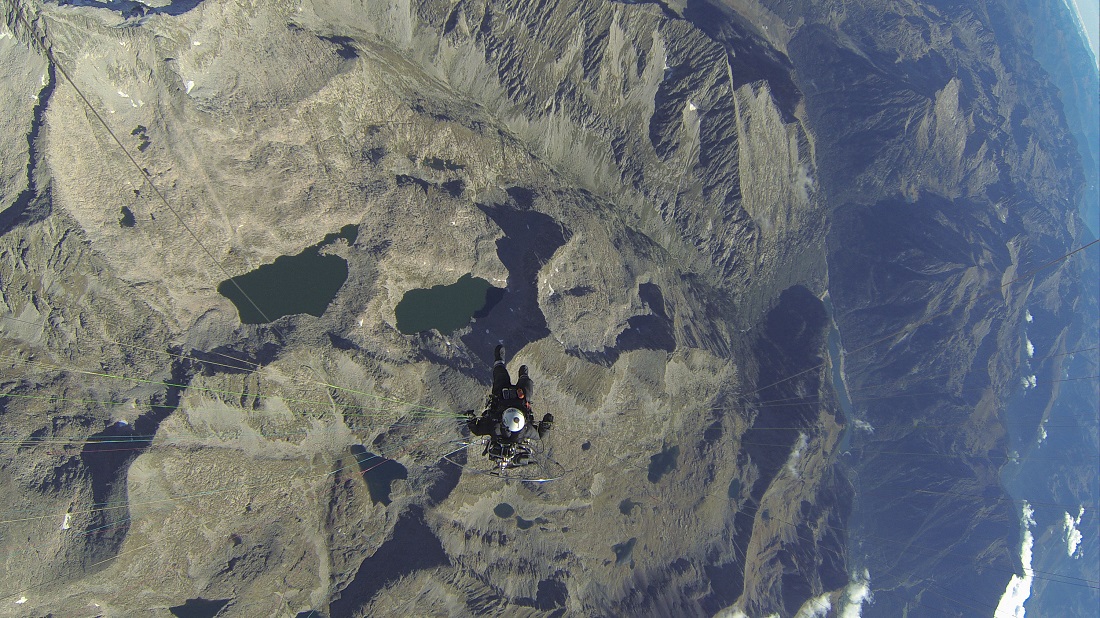 Karen surveys the paragliders below from 6250m altitude - October 2013
follow karen skinner