FAI Aeromodelling Commission (CIAM)
2020
The year 2020 turned out to be a very memorable year. At the end of 2019, the first reports came from China that a new virus had been identified, later referred to as Covid-19 pandemic. In early 2020 it came over to Europe, shortly afterwards it spread worldwide.
CIAM had to deal with it in the run-up to the Plenary Meeting. This was canceled in mid-March.
Given the risks and travel restrictions imposed, the Bureau decided that there would be no World and Continental Championships in 2020 and that they would be postponed to 2021. Wold Cups were postponed for some time and later canceled for the full year.
In the meantime, the Bureau had switched to communication via ZOOM (internet).
The Plenary Meeting was postponed until the fall.
During the summer, local regulations were relaxed without leading to many activities.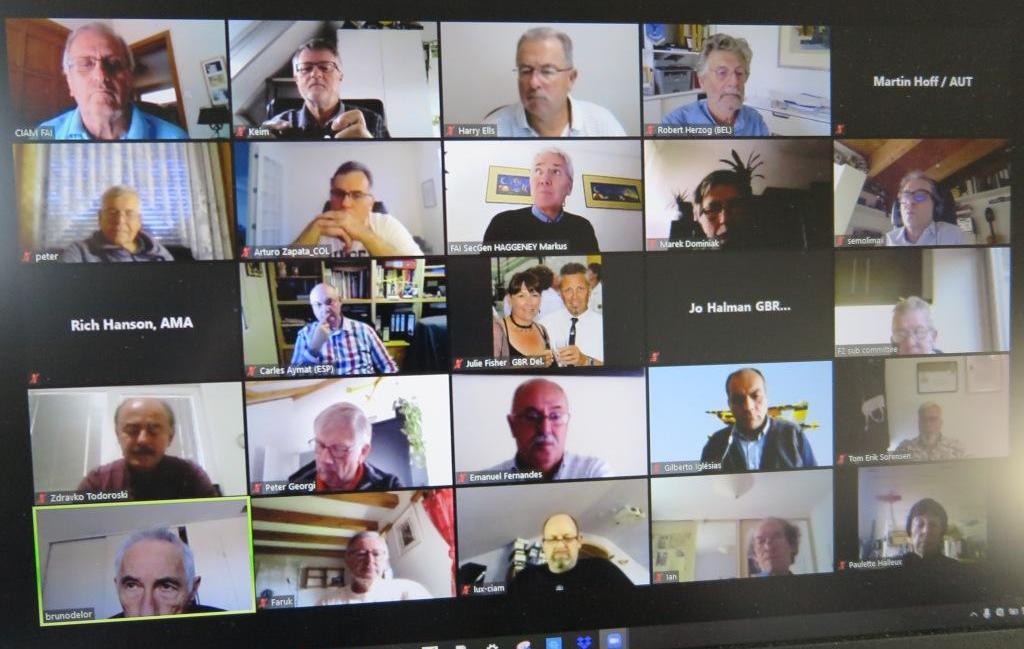 The e-Plenary Meeting was announced end of September. This took place from October 10th to November 14th via Zoom and was divided into e-technical meetings for F2, F9, F5B, F3FJ and Pylonrace, votings and the e-Plenary Meeting itself. Thanks to the good organization, everything went smoothly.

Proposals for Technical Meetings that have not been held now will be moved to the next opportunity. The working method for EDIC will be further discussed and laid down.
Mutation: Vernon Hunt (GBR) was chosen i.l.o. Ferenc Orvos as Control Line chairman.
F5K (Thermal duration gliders for multiple task competition) was adopted as a new provisional class. The transition from electric pylon race from the Electric subcommittee to Pylon race has been completed.
Awards:
Alphonse Penaud Diploma: Jan SEDLACEK (Czech Republic)
Antonov Diploma: Peter HALMAN (GBR)
Andrei Tupolev Medal: Jan SEDLACEK (Czech Republic)
FAI Aeromodelling Gold Medal: Ingemar LARSSON (Sweden)
Scholarship: Michal ZITNAN (Slovak Republic)
There was no Open Forum.
In principle, subsequent Plenary Meetings will take place in the same way.
A ZOOM meeting will be organized to map out the problems associated with the globally imposed obligations on UAVs including model aircraft.
During the December Bureau Meeting, the World and Continental Championships program will be established as far as possible.
CIAM E-Bureau Meeting: December 19.