FAI Hang Gliding and Paragliding Commission (CIVL)
Harnesses and Back Protectors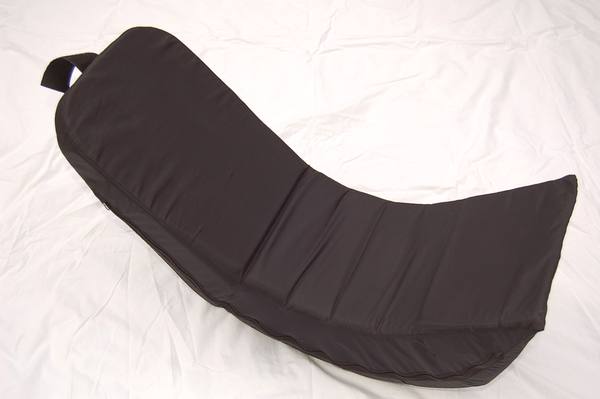 According to the decision of the CIVL Bureau on June 27, 2019, the paragliding harness rule, FAI Sporting Code Section 7A and C § 8.5.1, was modified as follows:
All pilots must fly with a harness and back protector combination that has been tested to LTF09 or EN1651:2018 or later more than 90 days before the start of the event. CIVL publishes an indicative list on its website.
The rule refers exclusively to FAI Category 1 competitions.
For PGA harnesses certified according to editions of EN 1651 earlier than 2017 are not compliant, later years are compliant.
For PG XC harnesses shall be certified at least according to LTF 09.
In order to help pilots comply with this rule, a table has been compiled from the websites of harness manufacturers and test laboratories. The Paragliding Committee hopes that the PG community will help keep this list updated by informing us of any omission and notifying us of new certified models and harness/back protector combinations. This will prove most useful to organisers of future championships as well as to pilots and team leaders preparing to compete in championships. Updates to send to the CIVL Administrator.
Last update: 11 September 2023
Manufactuer
Model
Harness Certification Complies with the Rules EN1651:2018 or LTF09
Protector Certified
Allowed in Cat1
Advance
Axess 2 Air
EN 1651 LTF 03
NO
YES
NO
Success 2+
EN 1651 LTF 03
NO
YES
NO
Success 3
EAPR-GZ-7683/13
NO
YES
NO
Impress
NO
NO
NO
Impress 2
EN 1651
NO
NO
NO
Impress 2+
EN 1651 LTF 03
NO
YES
NO
Impress 3
EAPR-GZ-7411/11
NO
YES
NO
Lightness
LTF 09 EN 1651
YES
NO
NO
Axess 3
EAPR-GZ-7636/12 LTF09
YES
YES
YES
Easiness
EAPR-GZ-7620/12 LTF09
YES
YES
YES
Aeros
Astera
NO
NO
NO
AeroSport Int
Bump'air 17+
n/a
n/a
NO
NO
Aircross
U-Relax
EN 1651, EN 12491, LTF09
YES
YES
YES
Airwave
Ram Race
DHV GS-03-0332-06 LTF3
NO
YES
NO
Ram-C
NO
NO
NO
Laminar Control
still in progress
NO
NO
NO
Alpine GT Light
EAPR-GZ-7050/08 LTF03
NO
YES
NO
GT2

DHV GS-03-0333-06 LTF03

NO
YES
NO
APCO
Blade Harness
NO
NO
NO
Chairbag
DHV GS-03-0362-07
YES
YES
NO
Kitto
PH_301.2020 LTF NfL II 91/09.
YES
YES
YES
Ava sport
Tanto

DHV GS-03-0274-03 LTF03

NO
YES
NO
Tanto Light

AIRT GZ_020.2011 LTF09

YES
YES
YES
Tanto Race

AIRT GZ_029.2012 LTF09

YES
YES
YES
Sprinter

EAPR-GZ-7124/09 LTF03

NO
YES
NO
Cruiser

DHV GS-03-0274-03 LTF03

NO
YES
NO
Cruiser NG
AIRT GZ_014.2011 LTF03
NO
YES
NO
Student NG
EN 1651
NO
YES
NO
Okuri MF
AIRT GZ_013.2011 LTF09
YES
YES
YES
Twin NG
AIRT GZ 033.2012 LTF09
Katana
NO
NO
NO
Samurai
NO
NO
NO
BGD
Snug

PH 129.2015 EN 1651 LTF09

YES
YES
YES
Charly
Titan

DHV GS-03-0316-05

NO
YES
NO
Titan 3
EAPR-GZ-7171/09
NO
YES
NO
Capitan

EAPR-GZ-7255/10 LTF09

YES
YES
YES
Balance

DHV GS-03-0380-11 LTF09

YES
YES
YES
Mission

EAPR-GZ-7170/09 LTF03

NO
YES
NO
Globe
NO
NO
NO
Aeros
Astera
NO
NO
NO
AeroSport Int
Bump'air 17+
n/a
n/a
YES
NO
Dudek
Disco
EN 1651, EN 12491, LTF09
YES
YES
YES
Combo
EN 1651, EN 12491, LTF09
YES
YES
YES
Funky 2018
EN 1651, EN 12491, LTF09
YES
YES
YES
Jazz 2018
EN 1651, EN 12491, LTF09
YES
YES
YES
Pogo 3
EN 1651, EN 12491, LTF09
YES
YES
YES
Pogo 3 2R
EN 1651, EN 12491, LTF09
YES
YES
YES
Soul 2018
EN 1651, EN 12491, LTF09
YES
YES
YES
Techno 2018
EN 1651, EN 12491, LTF09
YES
YES
YES
Escape
S'Ofa
AIRT GZ-023.2011
NO
YES
NO
Gin Gliders
Genie Race
EN 1651
NO
YES
NO
Genie Race 4 M
d: EN1651:1999, EN12491:2015 and LTF 91/09
YES
YES
Yes
Genie Race II
EN 1651 & LTF 91/09
YES
YES
Yes
Genie Race 3

[EN] 1651-99 , [LTF] 91/09

PH082.2013 GZ 082.2013

YES
YES
Yes
Genie Lite
EAPR-GZ-7535/12 LTF09
YES
YES
YES
Genie 4
EN 1651
NO
YES
NO
Gingo II
LTF 03
NO
YES
NO
Verso
EN 1651
NO
YES
NO
Basis
EN 1651
NO
YES
NO
Basis RC
EN 1651
NO
YES
NO
Gingo Airlight
EN 1651
NO
YES
NO
Gingo Airlight(II)
EN 1651
NO
YES
NO
Gingo 4
EN 1651:2018
YES
YES
YES
Switch
EN 1651
NO
YES
NO
Yeti
LTF09 GZ 017.2011
YES
NO
NO
Hofbauer
Hiro Pro
EN 1651
NO
YES
NO
Icaro - Fly & more
Energy Cross
EN 1651
NO
YES
NO
Energy

DHV GS-03-0371-08 LTF 03

NO
YES
NO
Energy Light
DHV GS-03-0328-06 LTF 03
NO
YES
NO
Independence
Geko

DHV GS-03-0342-06 LTF 03

NO
YES
NO
Emotion

EAPR-GZ-7131/08 LTF03

NO
YES
NO
Emotion+

EAPR-GZ-7199/10 LTF09

YES
YES
YES
Spider

DHV GS-03-0323-05 LTF03

NO
YES
NO
Innovation

EAPR-GZ-7304/10 LTF09

YES
YES
YES
Innovation Pro

EAPR-GZ-7528/12 LTF09

YES
YES
YES
Fusion

DHV GS-03-0360-07 LTF03

NO
YES
NO
Acro
NO
NO
NO
Emotion EVO
NO
NO
NO
Independence Acro
DHV GS-03-0387-13 LTF 91/09
Yes
Yes
Yes
Emotion
EAPR-GZ-7131/08 LTF 91/09
Yes
Yes
Yes
Emotion +
EAPR-GZ-7199/09 LTF 91/09
Yes
Yes
Yes
Emotion Evo = Emotion +
EAPR-GZ-7199/09 LTF 91/09
Yes
Yes
Yes
Spider
DHV GS-03-0323-05 LTF 35/03
NO
Yes
No
Fusion
DHV GS-03-0360-07 LTF 35/03
NO
Yes
No
Compact
DHV GS-03-0361-07 LTF 35/03
NO
Yes
No
Emotion²
EAPR-GZ-0208/14 LTF 91/09
Yes
Yes
Yes
Freestyle One
EAPR-GZ-0529/16 LTF 91/09
Yes
Yes
Yes
Freestyle Two
EAPR-GZ-0530/16 LTF 91/09
Yes
Yes
Yes
Hike
EAPR-GZ-0008/14 LTF 91/09
Yes
Yes
Yes
Hike B
EAPR-GZ-0764/18 LTF 91/09
Yes
Yes
Yes
Innovation
EAPR-GZ-07304/10 LTF 91/09
Yes
Yes
Yes
Innovation B
EAPR-GZ-0855/18 LTF 91/09
Yes
Yes
Yes
Innovation Pro
EAPR-GZ-7528/12 LTF 91/09
Yes
Yes
Yes
Junior
EAPR-GZ-0513/16 LTF 91/09
Yes
Yes
Yes
Logo! Pro
EAPR-GZ-0030/13 LTF 91/09
Yes
Yes
Yes
Looping
EAPR-GZ-0449/15 LTF 91/09
Yes
Yes
Yes
Looping green
EAPR-GZ-0674/18 LTF 91/09
Yes
Yes
Yes
Looping blue
EAPR-GZ-0675/18 LTF 91/09
Yes
Yes
Yes
Matador
DHV GS-03-0385-13 LTF 91/09
Yes
Yes
Yes
Matador Alpin
EAPR-GZ-0413/15 LTF 91/09
Yes
Yes
Yes
Matador XC
EAPR-GZ-0040/14 LTF 91/09
Yes
Yes
Yes
Passenger Air
EAPR-GZ-0046/14 LTF 91/09
Yes
Yes
Yes
Passenger Pro
EAPR-GZ-0047/14 LTF 91/09
Yes
Yes
Yes
Pilot
EAPR-GZ-0050/13 LTF 91/09
Yes
Yes
Yes
Pilot Alpin (in combination with Connect Air / Connect Pro Protector)
AT-PH_244.2018 LTF 91/09
Yes
Yes
Yes
Pilot B
EAPR-GZ-0860/18 LTF 91/09
Yes
Yes
Yes
String
EAPR-GZ-0210/14 LTF 91/09
Yes
Yes
Yes
Wakka
EAPR-GZ-0868/18 LTF 91/09
Yes
Yes
Yes
Wanta
EAPR-GZ-0857/18 LTF 91/09
Yes
Yes
Yes
X-Pro
EAPR-GZ-0173/14 LTF 91/09
Yes
Yes
Yes

Karpo Fly

Fantom Size M
EN 1651 PH 044.2013
LTF09 GZ 044.2013
YES
YES
YES
Arrow X-Alps 3 Size M
EN 1651 PH .45.2013
LTF09 GZ 045.2013
YES

YES

YES
Demon
NO
NO
NO
Clever 2
DHV GS-03-0359-07
NO
NO
NO
Arrow 2
DHV GS-03-0356-07
NO
NO
NO
Mystic
DHV GS-03-0358-07
NO
NO
NO
Meteor 2
NO
NO
NO
Kortel
Kamasutra II with 17cm protector
EN 1651 LTF 09
YES
YES
Yes
Kanibal II with 17cm protector
EN 1651 LTF 09
YES
YES
Yes
Kanibal Race with 17cm protector
EN 1651 LTF 09
YES
YES
Yes
Kuik II

AIRT GZ_027.2012 LTF09

YES
YES
YES
Karma II
AIRT GZ_019.2011 LTF09
YES
YES
YES
Karma
EN 1651
NO
NO
NO
Karver
EN 1651
YES
Yes
Yes
Kruyer +Sak II
EN 1651 LTF 09
YES
Yes
Yes
Karver +Sak II
EN 1651 LTF 09
YES
Yes
Yes
Kool
EN 1651 LTF 09
YES
Yes
Yes
Kuik II + Module Kocon
EN 1651 LTF 09
YES
Yes
Yes
Kuik II + Krashbox
EN 1651 LTF 09
YES
Yes
Yes
Kuik II + Reversible Bag Airbag
EN 1651 LTF 09
YES
Yes
Yes
Kuik II + Module Mousse Bag
EN 1651 LTF 09
YES
Yes
Yes
Kolibri
EN 1651 LTF 09
YES
Yes
Yes
Kanibal Race II
EN 1651 LTF 09
YES
Yes
Yes
Mac Para
Magnum
NO
NO
NO
Howgh
NO
NO
NO
Hawaii
EN 1651
YES
YES
NO
XCL
NO
NO
NO
Rock
NO
NO
NO
Goya II
NO
NO
NO
Rider
NO
NO
NO
Levity
EAPR-GZ-7404/12
NO
YES
NO
NearBirds
Genesis
EAPR-GZ-0532/16 EN 1651 LTF 91/09
YES
Yes
Yes
Vibe
EN:1651:2018+A1:2020 EN 12497:2015+A1:2021 and NfL 2-565-20
YES
Yes
Yes
Airy Vibe
EN:1651:2018+A1:2020 EN 12497:2015+A1:2021 and NfL 2-565-20
YES
Yes
Yes
ATACMS
EN:1651:2018+A1:2020 EN 12497:2015+A1:2021 and NfL 2-565-20
YES
Yes
Yes
Nervures
Fusion
EN : n°2010/016
NO
NO
NO
Airtreck / Altirando
EN : n°H0601176SA
NO
NO
NO
Bivouac
EN : n°H2006/008
NO
NO
NO
Expé
EN : n°H0402156N
NO
NO
NO
Niviuk
Hamak
AIRT GZ 024.2012
NO
YES
NO
Drifter
LTF09 GZ 017.2011
YES
YES
YES
Drifter 2
EN 1651-2018 +A1-2020
YES
YES
YES
Hamak
NO
NO
NO
Ozone
Oxygen 2
EN 1651 LTF 09
YES
YES
YES
Submarine
EN 1651:2018
YES
YES
YES
Oxygen 1
NO
NO
NO
Atak
NO
NO
NO
Exoceat
EN 1651 LTF 09
YES
YES
YES
Ozium
EN 1651 LTF 09
YES
YES
YES
Ozium 2
EN 1651 LTF 09
YES
YES
YES
Oxygen 2+
EN 1651 LTF 09
YES
YES
YES
Solos
EN 1651 LTF 09
YES
YES
YES
Forza
EN 1651 LTF 09
YES
YES
YES
Quest
EN 1651 LTF 09
YES
YES
YES
Paratech
R1
EAPR-GZ-7616/12 LTF09

YES

YES

YES

PRO-DESIGN
Hiro Air
EN 1651
YES
YES
YES
Sky Paragliders
Reverse 2
2. DV LuftGerPV §1, Nr. 7 c
NO
YES
NO
Reverse 3
2. DV LuftGerPV §1, Nr. 7 c
NO
YES
NO
Gii 2
2. DV LuftGerPV §1, Nr. 7 c
NO
YES
NO
Excite 3
2. DV LuftGerPV §1, Nr. 7 c
NO
YES
NO
Revel 2

2. DV LuftGerPV §1, Nr. 7 c

NO
YES
NO
Gii
2. DV LuftGerPV §1, Nr. 7 c
NO
YES
NO
Gii front
2. DV LuftGerPV §1, Nr. 7 c
NO
YES
NO
Skylighter
2. DV LuftGerPV §1, Nr. 7 c
NO
YES
NO
GII 2 alpha
2. DV LuftGerPV §1, Nr. 7 c
NO
YES
NO
Reverse 4
LFT NFL II-91/09
YES
YES
YES
Gii 3
LFT NFL II-91/09
YES
YES
YES
Gii 3 Front
LFT NFL II-91/09
YES
YES
YES
Gii 3 Alpha
LFT NFL II-91/09
YES
YES
YES
Twin (LTF version)
LFT NFL II-91/09
YES
YES
YES
Skylighter 3
LFT NFL II-91/09
YES
YES
YES
Crux + X-Airbag
LFT NFL II-91/09
YES
YES
YES
Transformer
LFT NFL II-91/09
YES
YES
YES
Pax unique size
LFT NFL II-91/09
YES
YES
YES
Reverse 5
LFT NFL II-91/09
YES
YES
YES
Gii 4 ALPHA
LFT NFL II-91/09
YES
YES
YES
Skyline Flight Gear
Pure
LTF09 EAPR-GZ-7175/09
YES
YES
YES
Core
LTF09 EAPR-GZ-7211/09
YES
YES
YES
PIZ
LTF00 EAPR-GZ-7210/09
NO
YES
NO
Racer 4
LTF03 DHV GS-03-0369-08
YES
YES
NO
Ride
LTF03 DHV GS-03-0329-06
YES
YES
NO
Debut
LTF03 DHV GS-03-0352-07
YES
YES
NO
Vertigo
LTF03 DHV GS-03-0309-04
YES
YES
NO
Skyman
Skyman X-alps
EAPR-GZ-0859/18 LTF 91/09
Yes
Yes
Yes
Coconea
EAPR-GZ-0209/14 LTF 91/09
Yes
Yes
Yes
Coconea X-alps
EAPR-GZ0531/16 LTF 91/09
Yes
Yes
Yes
Skywalk
Flip
NO
NO
NO
Cult C
EAPR-GZ-7399/11 LTF09
YES
YES
YES
Cult C 2012
EAPR-GZ-7510/12 LTF09
YES
YES
YES
Cult 3
AIRT GZ_022.2011 LTF09
YES
YES
YES
Range Air - Size S/M/L

EAPR-GZ-0142/14

NO
NO
Range X-Alps 2

PH_196.2017 LTF91/09 | EN1651 | 1999

YES
YES, Permair
YES
Cult 4

EAPR-GZ-0554/17 LTF 91/09 | EN1651 | 1999

YES
YES
YES
Breeze Permair

DHV GS-03-0392-19 LTF91/09 | EN1651 | 1999

YES
YES, Permair
YES
Core Permair

PH_304.202 MISC_1156.2020 LTF91/09 | EN1651 | 2018

YES
YES, Permair
YES
Cruise Permair C2

EN1651 : 2018

YES
YES, Permair
YES
SOL SPORTS
CX 2
EAPR-GZ-7176/09
NO
YES
NO
AMX 2
EN1651:1999, EN12491:2015 and LTF 91/09
YES
YES
Yes
CX 2 - PRO
EAPR-GZ-7176/09
NO
YES
NO
CXC
EAPR-GZ-7347/11
NO
YES
NO
CXC Pro

EAPR-GZ-0316/15 LTF91/09

YES
YES
YES
CX Max

En 1651:1999 EN 12491:2015 and LTF91/09

YES
YES
YES
Spring 2

AIRT GZ_022.2011 LTF09

YES
YES
YES
Spring 2 Airbag

EAPR-GZ-7377/11 LTF09

YES
YES
YES
AMX

DHV GS-03-0376-10 LTF09

YES
YES
YES
Virtue
DHV GS-03-0353-07 LTF03
NO
YES
NO
Virtue 2
DHV GS-03-0376-10 LTF03
NO
YES
NO
Amazon
DHV GS-03-0363-07 LTF03
NO
YES
NO
Easy 2
DHV GS-03-0364-07 LTF03
NO
YES
NO
Easy 3
EAPR-GZ-7685/12 LTF09
YES
YES
YES
Mountain Light Calipox
DHV GS-03-0375-10
NO
YES
NO
X-Light

EAPR-GZ-7605/12

NO
YES
NO
Supair
Altix 2
LTF09 EAPR-GZ-7281/10
YES
YES
YES
EVO XC 2
LTF09 EAPR-GZ-7282/10
YES
YES
YES
EVO Lite
LTF91/09 EN1651 EN12491
YES
YES
YES
EVO XC 3
EN1651 EN12491 PH 084.2013
LTF GZ 084.2013
NO
YES

NO

Minimax
EAPR-GZ-7172/09
NO
YES
NO
Acro 4 with installed impact pad
LTF NfL II 91/09, EN1651:1999, EN12491:2015
YES
YES
YES
Altirando XP
EAPR-GZ-7174/09
NO
YES
NO
Access BumpAir
LTF09 EAPR-GZ-7180/09
YES
YES
YES
Access Airbag
LTF09 EAPR-GZ-7158/09
YES
YES
YES
Walibi
EN 1651; EAPR-GZ-7173/09
NO
YES
NO
Altix
EN 1651
NO
YES
NO
Altirando
EN 1651
NO
YES
NO
Hybrid
EN 1651
NO
YES
NO
Shamane
EAPR-GZ-7336/10 LTF09
YES
YES
YES
Shamane FR
EAPR-GZ-7425/11 LTF09
YES
YES
YES
Skypper

EAPR-GZ-7543/12 LTF09

YES
YES
YES
SkypperFR

EN 1651

NO
YES
NO
Altirando 2
EAPR-GZ-7545/12 LTF09
YES
YES
YES
Delight

EAPR-GZ-7444/11 LTF09

YES
YES
YES
Vamp
EN 1651
NO
*YES
NO
Sun Gliders
Sunny 3 Plus
NO
NO
NO
SWING
Connect Race
LTF09 EAPR GZ-7438/11
NO
YES
YES
Connect Reverse
EN 1651
NO
YES
NO
Connect 2
LTF 03
NO
NO
NO
Connect Light 2
LTF 03
NO
NO
NO
U-TURN
IQ 4
EN 1651
NO
YES
NO
IQ 5
EN 1651
NO
YES
NO
UP International
Fast Pro
LTF 09
YES
YES
YES
Fast Pro 2
LTF09 EAPR-GZ-7426/11
YES
YES
YES
Nanga
EN 1651
NO
YES
NO
Nanga 2
EN 1651 LTF 09
YES
YES
YES
Vonblon
Nexus
EAPR GZ-7604/12 LTF09
YES
YES
YES
Woody Valley
x-Rated 3
NO
NO
NO
x-Rated 4
LTF03 DHV GS-03-0366-07
NO
YES
NO
x-Rated 5
LTF03 EAPR-GZ-7325/10
NO
YES
NO
x-Rated 6

LTF09 EN 1651:1999 EAPR-GZ-7439/12

YES
YES
YES
Voyager PLUS
LTF03 EAPR-GZ-7198/09
NO
YES
NO
Velvet2 T-Lock
LTF03 DHV GS-03-0335-06
NO
YES
NO
Velvet2
LTF03 DHV GS-03-0336-06
NO
YES
NO
Velvet2 Airbag T Lock
LTF03 DHV GS-03-0338-06
NO
YES
NO
Peak2 T Lock
LTF03 DHV GS-03-0348-07
NO
YES
NO
Peak2
LTF03 DHV GS-03-0349-07
NO
YES
NO
X-Alpes GTO
LTF09 EAPR GZ-7438/11
YES
YES
YES
Wani 3
EN 1651:2018
YES
YES
YES
Excense Air

DHV GS-03-0373-08 LTF03

NO
YES
NO
Excense

DHV GS-03-0347-07 LTF03

NO
YES
NO
X-over 2
LTF03 DHV GS-03-0247-01
NO
YES
NO
WWM17
YES
NO
HASKA2
DHV GZ-03-0383-13 LTF09
YES
YES
NO
WANì2
EAPR GZ-0266-14 EN1651 LTF09
YES
YES
NO
WANì LIGHT
EAPR GZ-345-15 EN1651 LTF09
YES
YES
NO
X-RATED 7
EAPR GZ-541-16 EN1651 LTF09
YES
YES
YES
GTO-LIGHT
EAPR GZ-831-18 EN1651 LTF09
YES
YES
NO